Payment study about the trends in subscriptions: Households in Europe have 10 subscriptions on average – more than they really know
The demand for subscription models remains high – even in times of high inflation rates. This is one of the key findings of the new subscription study published by the FinTech company Riverty. While households in Europe estimate they have four subscriptions the average is ten completed subscriptions. Conducted among nearly 6,000 respondents between the ages of 18 and 74 years old from Germany, the Netherlands, Sweden, Finland, Denmark and Norway, the survey shows that people are increasingly interested using products and services as part of subscription models.
Baden-Baden/Verl,
Dec 14, 2022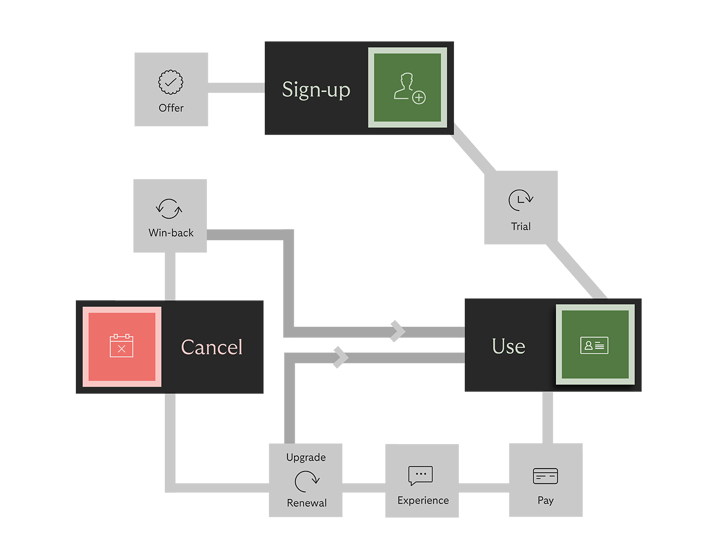 Registration – could it be a little more individual, please?
One size fit all – that used to be the case. Now customers want a subscription experience tailored to them, especially at registration. For example, the respondents in all countries agree that they want to choose the payment period by themselves. The number of German study participants to whom this is important, is even above the country average: almost one out of two Germans would like to customize the payment intervals.
Sign-Up
Results regarding the sign-up phase show local similarities and differences. Across all countries, the need to choose payment periodicity is clear. Automatic payment are preferred in most countries. In Finland, however, a large group of respondents prefer to pay their bills manually.
In terms of payment, customers expect to find their favorite payment methods when they register: Among Gen Z and millennials digital wallets/mobile payment or buy now pay later are in vogue.
Whereas the other generations prefer direct bank transfer and traditional/automatic bank transfer. The study results show how important it is to pay attention to this as a merchant: More than 20 percent of 25 to 35-year-olds abandon the registration process if they can't pay with their preferred payment method. Conversion that is unnecessarily lost if the merchants don't offer the method of Payment they want to use.
The use – must be smooth
From a payment perspective, payment confirmations, reminders and rejections are an essential part of the subscription usage phase. It is therefore devastating that, according to the study, only 34 percent of respondents are satisfied with this. Germany is well below the average. So there's still a need for action here to ensure that the customer journey is as uncomplicated and convenient as possible for the customer to ensure no customer gets lost.
With regard to differences between the generations, one result stands out: Only 36 percent of 18 to 24-year-olds and 37 percent of 25 to 35-year-olds say they have a good overview of regularly recurring payments. Across all age groups, however, the figure is over 50 percent and 67 percent among 65 to 75-year-olds. One possible reason: a relatively small percentage of younger age groups check their individual bills. Which leads to less insight into their own finances.
Use
There are interesting local variations about key issues during the "use" phase: the need to check each individual invoice (lower in the Netherlands), satisfaction on information regarding payments (lower in Germany). Interesting highlight: a high percentage of respondents in Finland would rather pause instead of cancelling subscriptions.
Cancellation – or perhaps a win-back after all?
To avoid losing customers at the first step of the subscription payments lifecycle, the payment process must be as simple, fast and transparent as possible. According to the study, more than one out of four 25- to 35-year-olds abandons the registration process if the payment process takes too long. The fact that transparency about the payment process and a simple sign-up are also crucial for conversion is made clear by the participants' responses: 27 percent of 25- to 35-year-olds don't
complete their purchase if the payment process is unclear and 21 percent if the registration is too complicated.
The cancellation after use also offers a few opportunities for the subscription provider: Clear communication, information about the customer's satisfaction and transparent prices helps the merchant prevent the customer from canceling in the first place or winning them back – this is what the main reasons cited by participants across countries suggest.
Steven Piet, Product Lead Recurring Payments at Riverty, points out: "Subscription models offer an excellent way for companies to build stronger and longer-lasting relationships with their customers. But to be successful in the long run companies have to know and anticipate the needs and the wishes of their customers. Offering a subscription model with limited terms and a small number of payment methods is no longer sufficient."
Piet further explains: "Subscription models are a trend that merchants need to keep an eye on in order to retain the customers of the future. After all, the average GenZtler owns six subscriptions - that's more than any other generation."
Five points, that a merchant should keep in mind:
Inform your customers that if their payment information changes, they must update it or the subscription will be automatically cancelled
Offer customers an option to pause the subscription instead of canceling it
Inform your customers regularly about their payments – transparency increases customer loyalty
To win back customers in case of cancellation, offer more attractive alternatives in subscription models that customers can easily switch to.
Offer your customers' favorite payment methods, whether they are GenZtler, Baby boomer, Swedish or German
About the study
The results of the study are based on an online representative survey conducted by the financial service provider Riverty. Almost 6,000 subscribers between the ages of 18 and 74 were surveyed from March to April 2022. The survey took place in Germany, the Netherlands, Norway, Finland, Denmark and Sweden.
About Riverty
A world where business meets the needs of humanity. Where financial technology makes a difference. Where everyone is in control of their own financial story. At Riverty, we're building it, together. A team of more than 5,000 experts in 13 countries, we're finding smarter, simpler, seamlessly connected ways to manage your money. From flexible payments to accounting and debt collection, our holistic solutions empower everyone to live their best financial lives. It's time to enter a new era of economic freedom.
Dario Artico
Corporate Communication / Press Contact
Riverty Group GmbH
dario.artico@riverty.com
+49 7221 5040 3060