BNPL betters the online shopping experience.
9 out of 10 consumers want the online experience equal to the offline experience. Read more about how shopping is part of our life and how ecommerce growth comes with some demands.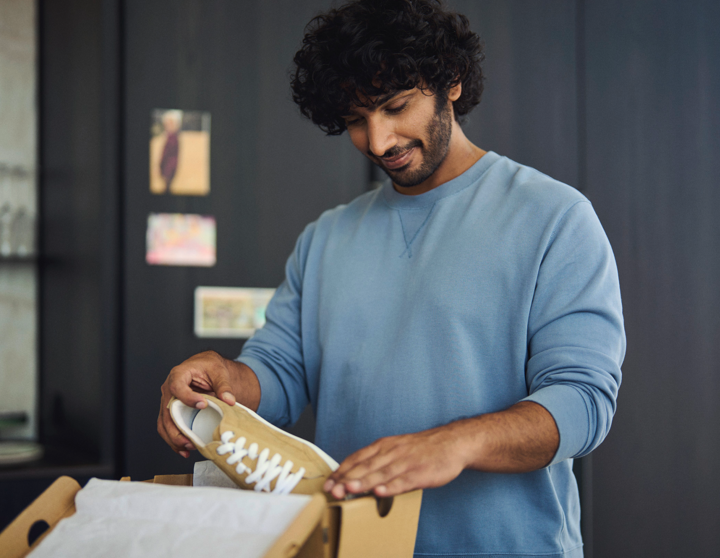 Shopping online is part of our weekly, or even daily, life.
And as online shoppers, we become increasingly experienced from shopping at multiple channels, outlets, chains, and marketplaces. Buying online has become the absolute standard and helps the continuing growth of ecommerce worldwide. But this growth also comes with a growing demand for convenience and good digital experience.
Ecommerce growth comes with multiple demands
Growth equal opportunity. Since consumers shop more online frequently, more companies are trying to service the buying crowds. But if many competitors are doing the same thing, how do you stand out as a merchant and can you make sure the purchases happen in your check out? Riverty eCommerce Review has the latest data on consumer demands.

Digital experiences seem to become the norm. Even though we see fluctuations of the share of buying online vs offline. The online share of total spend in September is 41% in NL, 43% in DE, 32% in NO and 48% in UK. We do see steady growth of demands of consumer needs for online experiences. 9 out of 10 online shoppers expect their online buying experience to be equal to, or even better than the offline experience in a physical store. Fulfilling these needs will drive growth for webshops.
More shoppers are adopting the BNPL payment method.

Somehow being able to see, feel and try a product before actually buying it (according to 37%) is a driver to shop online more. A payment product such as Buy Now Pay Later (BNPL) offers such a solution. The market share of BNPL is growing because shoppers are looking for the best experience. The use of BNPL sees an increase over the past 18 months. Currently the average market share of BNPL hit 19%, with the highest individual market share in Norway (at 27%), followed by Germany (at 24%).
Splitting payments and extending payment time is driving growth in the BNPL-landscape.
In the chart below, regular BNPL has been fairly stable at 18% of all online purchases since Q1 2021, but the share of split- & extend has increased from 4% in Q1 2021 to 7% in Q3 2022.

Regular BNPL is still the biggest form of the flexible payment method across Europe.
Split and Extend features is driving BNPL growth
7 out of 10 shoppers are BNPL users in Germany.
Germany has most BNPL-users. Almost 7 out of 10 shoppers use or have ever used the Buy Now Pay later in checkout. The Norwegians follow closely behind. 63% of the Nordic country shoppers now have experience with BNPL, which is a significant increase compared to the 59% from January 2021. Over half over the Dutch shoppers is also familiar with using BNPL, as 57% say they use of have ever used it before. The shoppers base of BNPL users is growing as well, with currently 4 out of 10 online shoppers (41%) who say to pay or have paid with BNPL.
BNPL shoppers actively seek for BNPL for most of their online purchases more often.
Experience is what consumers are after. Especially when it comes down to online shopping. 7 out of 19 BNPL users seek out webshops that offer BNPL. Moreover, we also see an increase in the share of BNPL searches for most of my online purchases. The Netherlands and Norway are the leaders of the share, with 33% of BNPL users who seek out the method for most of their purchases, which is an increase since May this year (was 31% and 32% respectively). Then Germany follows with 32%. The UK may take fourth place here with 30%, the share of BNPL users that say they seek out BNPL for some of their online purchases, is the highest with 42%.
Fashion/Cosmetics shoppers are the biggest BNPL users
As mentioned before, being able to see, feel and try a product before actually buying it, would drive shopping online more. This need fits well with a category such as Fashion. We see this in the numbers, too. 37% of BNPL-users have shopped in the Fashion/Cosmetics category in the past month. When we lay this share beside shoppers who use a different payment method, the number is significantly lower, as only 25% of shoppers (non-BNPL user) say to have made a purchase in this category. This enormous gap between BNPL-users and non-users is visible in all categories. Shoppers between the ages of 25 to 34 carry the biggest share in BNPL-use, followed by 35-to-44-year old's.
BNPL offers an opportunity to welcome in new shoppers
BNPL is not available yet in any thinkable category. We asked consumers where else they would like to see and opt for BNPL. Hotel Bookings, Plane Tickets and Dentist Appointments are often appointed to be next for BNPL and are categories used by many people.

Another interesting category to research for BNPL opportunities is the world of Online Dating. About 40% of consumers use such an app or platform and it is popular among the younger age groups (that use BNPL more often than older age groups). However, Online dating has one of the lowest BNPL consideration shares.
BNPL is becoming the new payments standard in ecommerce.
The exponential growth of ecommerce will only become more accelerated if webshops and merchants regard the needs and desires of shoppers as their number one priority. Offering flexible payments at checkout, such as BNPL, is one of these needs online shoppers have.
Want to learn more about the needs and behaviors of online shoppers? Watch this space and read our other blogs and articles.