Riverty wins Gold at the German Brand Award
The jury of the German Brand Award selects Riverty as the best brand of the year in the category "Excellent Brands: Banking & Financial Services". The award recognizes the successful design implementation of the brand promise.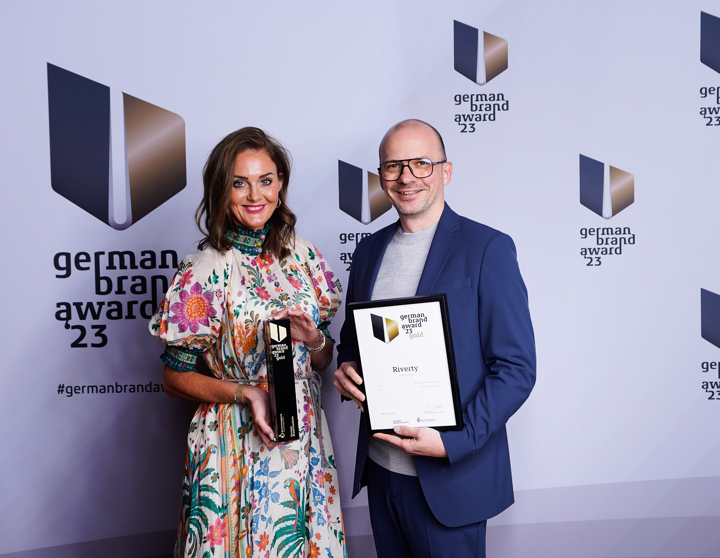 The independent experts on the jury were impressed by Riverty's brand management and the translation of their brand promise into a corresponding design. " A modern and likable presence with a good guiding idea and story that captures the zeitgeist with its cleanly derived core message of carefree freedom. The consistent portrayal of this feeling of freedom throughout the entire brand presence, beautifully reflected in the catchy name, is a strong accomplishment both in form and content," commented the jury.
Mareike Hoekman, Brand Marketing Lead at Riverty, was delighted to accept the award on behalf of the company: "With Riverty, we have created a brand that perfectly reflects our business transformation. Riverty's design is mature yet agile, bold yet human. We aim to utilize fintech products to facilitate financial transparency for people, enabling smart and conscious consumption. We stand for sustainable growth that is fair and inclusive. Therefore, we are very pleased to receive this award, which confirms our path and serves as a truly rewarding recognition for the strong commitment of our entire team ".  
The prestigious German Brand Award is presented annually by the German Design Council (Rat für Formgebung) and GMK Markenberatung. A top-class jury of independent experts honors companies, agencies and service providers that stand out from the competition through outstanding brand management, sustainable campaigns and extraordinary marketing projects. Divided into the categories of "Excellent Brands" and "Excellence in Brand Strategy and Creation", the award recognizes outstanding achievements across various industries. This year alone, the jury received more than 1,300 entries from 19 countries.
About Riverty
With more than 5,000 employees, more than 25 million consumers and more than one billion transactions, we are one of the big FinTech. Even though we love numbers, we don't want to be measured by numbers only. Why?
We want to help build a world where business meets the needs of humanity. Where financial technology makes a difference. Where everyone is in control of their own financial story. At Riverty, we're building it, together. Our teams in 13 countries are always looking for smart, simple and seamlessly connected ways to manage people's money. From flexible payments to accounting and debt collection, our holistic solutions empower everyone to live their best financial lives. It's time to enter a new era of economic freedom.
Dario Artico
Corporate Communication / Press Contact
Riverty Group GmbH
dario.artico@riverty.com
+49 7221 5040 3060