Riverty's instore Buy Now Pay Later solution drives growth for fashion retailer terStal
Riverty, a leading European provider of FinTech and Buy Now Pay Later (BNPL) solutions, has partnered with terStal, a popular Dutch fashion company, to launch its in-store BNPL payment method in the Netherlands. Fashion retailer terStal is the first client offering this solution to its loyal customers, allowing them to buy clothes in-store, take them home and pay later.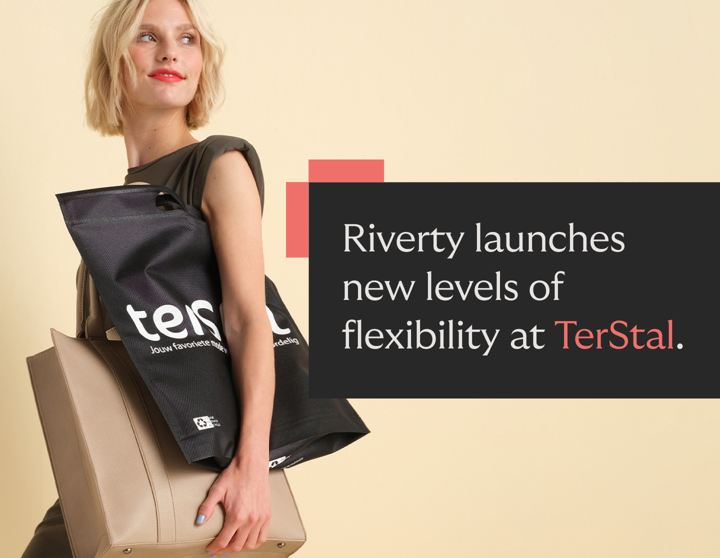 Consumer research by Riverty reveals that more than 50% of all consumers express the need to use a BNPL payment option, with the largest user group being women with an average age of 34, living in urban areas and with young children at home. Offering flexible payment options is therefore a key factor in attracting new customers to both online and offline retail - particularly in the fashion sector, which is the most popular category for BNPL purchases at 46%. Riverty's new Instore offer brings the ease and flexibility that users value to offline retail, giving terStal customers the option to pay when it suits them best.
To use the payment method, customers simply select an item of clothing in-store and present their digital customer ID along with a personal identification document at the counter. The checkout process is seamless and takes only a few seconds. This is made possible by an interface to the terStal cashier system, through which Riverty processes item, store, and customer data from the loyalty scheme. The new payment option offers additional benefits to terStal's large loyalty customer base and makes shopping for clothing for the whole family a hassle-free experience. Through the Riverty App, both online and offline purchases are displayed in the same transparent way and can be paid via a 14-day invoice to suit the shopper's individual financial situation. In the future other Riverty BNPL products like 30-day invoice or 'Pay In 3' can be added to provide even more financial freedom for consumers.
"We are always looking for ways to provide our customers with a unified shopping experience, whether they are shopping online or in-store. We already use Riverty's BNPL solution online and now also in-store - this is the ultimate omnichannel experience. It is a game-changer for us as it enhances the convenience of our in-store shopping experience and helps us combine the benefits of selecting clothes in-store with the flexibility of paying afterwards. This will increase customer loyalty and drive growth for our business," says Dominique Gloudemans from terStal.
TerStal is the first customer offering the new Riverty Instore BNPL solution. The payment methodThe in-store BNPL solution was launched in April and gradually rolled out, after being tested in selected terStal stores. The gradual introduction allowed both companies to gain insight into customer acceptance and optimize the user journey. A successful partnership approach that now enables terStal customers throughout the Netherlands to use Buy Now Pay Later in all 220 stores.
For Riverty, the in-store expansion demonstrates its commitment to the Dutch market and its ongoing collaboration with point-of-sale providers. "At Riverty, we believe that providing flexible payment options is key to building customer loyalty and driving growth for merchants. Our BNPL in-store payment method is a prime example of this philosophy in action, making shopping even more convenient and enjoyable for customers, while boosting loyalty for merchants. We're thrilled to see the positive impact our solution is having and are committed to continuing to innovate and provide the best payment solutions in the industry," concludes Bandan Jot Singh, Business Unit Lead BNPL at Riverty.
About terStal
terStal is family business with Dutch roots, which go back to the early 1900's. terStal offers low-key fashion for the entire family, whilst focusing on women and kids wear. The product range of terStal contains complete collections with both on-trend items and basics for women, men and kids, supplemented with underwear and legwear. Our success formula? High quality products that are affordable and accessible for every family. With our 220 stores in The Netherlands, there is always a terStal store nearby.
About Riverty
A world where business meets the needs of humanity. Where financial technology makes a difference. Where everyone is in control of their own financial story. At Riverty, we're building it, together. A team of more than 5,000 experts in 13 countries, we're finding smarter, simpler, seamlessly connected ways to manage your money. From flexible payments to accounting and debt collection, our holistic solutions empower everyone to live their best financial lives. It's time to enter a new era of economic freedom.
Dario Artico
Corporate Communication / Press Contact
Riverty Group GmbH
dario.artico@riverty.com
+49 7221 5040 3060