Resolve issue regarding a parking ticket
I received a control sanction or "parking ticket".
Complaint handling
Riverty handles customer service and complaint handling for control sanctions or more commonly known, "parking tickets", for many companies. The ticket itself is your best source of information, but we have put together an FAQ for you. Hopefully it has the answers you are looking for!
Why have I received a control sanction?
The parking area you parked in is regulated by the Parking Regulations, which are part of the Road Traffic Act. The reason for the imposition of the control sanction is stated on the control sanction. You can read the parking regulations at https://lovdata.no/
I have received a control sanction and am wondering if I have grounds to appeal?
The basis for the imposition is regulated in the parking regulations. "Parkeringsklagenemda" has historically dealt with objections related to the parking regulations and based on those made principle decisions which form the basis for handling complaints about imposed control sanctions.
In these cases it will basically be no use in complaining. You can find more information about these principle decisions at: https://pklagenemnda.no/prinsippavgjorelser/
I believe I have grounds to appeal the control sanction, how do I go about submitting an appeal?
We only process written complaints about control sanctions. The complaint can be registered on the website indicated on the control sanction or debt collection notice.
I didn't drive the car. Why have I recieved the control sanction?
We receive the invoicing information based on the vehicle owner registration. The invoice is always sent to the owner / leaser of the vehicle.
If the driver is known please write the name of the driver in the complaint.
Viser for øvrig til Forskrift om vilkårsparkering for allmennheten og håndheving av private parkeringsreguleringer (parkeringsforskriften):


§ 37. Betalingsansvar
Kontrollsanksjon skal ilegges fører av motorvognen på stedet. Dersom føreren er en annen enn den som var registrert som eier ved tidspunktet for overtredelsen, er de solidarisk ansvarlig for betalingen, med mindre motorvognen var fratatt eieren ved et lovbrudd med en strafferamme på mer enn ett år. Der føreren er kjent, må føreren først kreves for beløpet. Dersom kontrollsanksjon ikke er betalt 30 dager etter at betalingsoppfordring er sendt fører, kan beløpet kreves inn fra registrert eier av motorvognen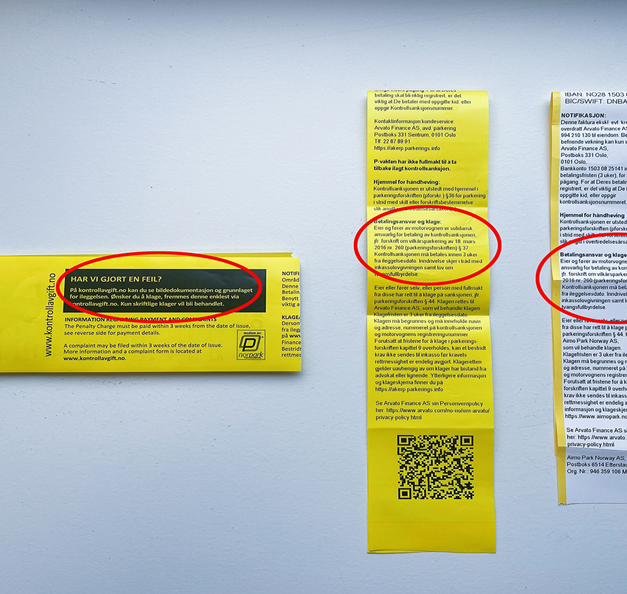 Payment responsibility and complaints
Complaints must be registered on the parking company's own website under complaints. You can find the web address on the yellow note or on the debt collection notice.
On the yellow note you will also find other information about payment responsibility and complaints. Below you see some examples, but the location of this may vary depending on which parking company has issued the sanction.
You still need help?
Feel free to contact us and we will respond as soon as possible.