"The decision-making processes are therefore very short and encourage people to bring on their own ideas"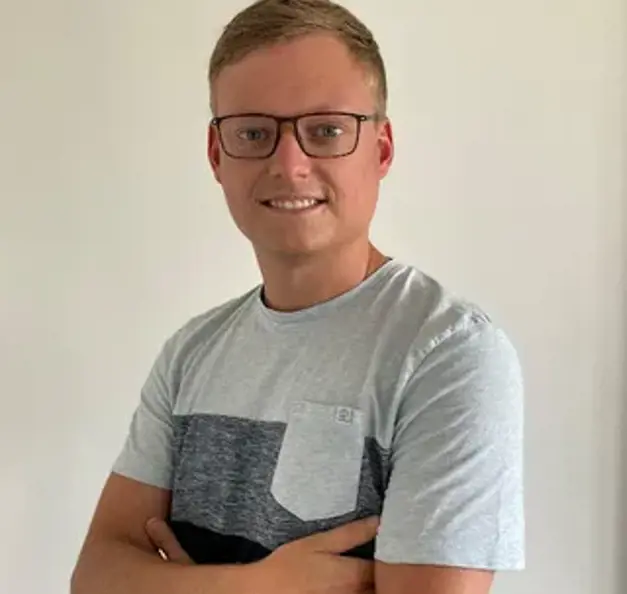 What is your job at Riverty?
The best way to answer this question is to tell you about the three major projects I have been involved in since joining Riverty: The Shared Mobility projects with Lynk&Co, an internal automation of a disbursement approval process and the implementation of software robots.
One of these projects was the Shared Mobility project with Lynk & Co. as the first major client. The Chinese company is currently revolutionising the concept of mobility. With Lynk & Co, consumers can not only buy cars, but also use them via a monthly membership or share them with others. The sharing concept entails complex financial processes, and payment between two members must be uncomplicated. With our platform Aquont, we take care of the entire order-to-cash process and ensure that all processes run smoothly. I was in charge of the conception and implementation in order to map the functionalities of the sharing platform in accounting. In the meantime, this product has gone live for Lynk & Co. as the first customer, but it is being further developed and new functionalities are being added so that we can use it to land further customers.
Another project - this time internal - was the automation of a disbursement approval process. The process was previously carried out completely manually and in Excel. Through the use of automatic checking algorithms, SAP now decides in many cases whether an amount can be paid without further ado or whether the case must be checked again by customer services. This has saved enormous amount of work-time.
The third project, which is still current and ongoing, is the implementation of "software robots" that serve SAP, for example. This technology is better known as Robotic Process Automation (RPA). We have our own team in Potsdam for the development and implementation of these robots. I am responsible for designing the whole thing on the SAP side and also for identifying processes that we can automate with robots. These are processes that are often repeated and can be processed based on rules. It's a very exciting topic that will certainly become even more important in the future.
Which technologies and ways of working do you prefer?
I am a fan of SAP S4/HANA. I am convinced that there is no better product for our projects in the finance area. For example, when developing the FI-CA module, SAP deliberately built in events, "little doors" so to speak, so that the user can extend the code according to his or her own requirements without changing it completely. Figuratively speaking, you have a prefabricated house in front of you, to which you can add walls or a garage as you wish. For me, a decisive factor in choosing an employer was that these state-of-the-art products are already integrated into the technical landscape. Many companies are just introducing SAP S4/HANA.
In terms of working methods, I feel very comfortable with our agile project methods. When we switched to agile working according to SCRUM last November, it naturally took some time for everything to settle in. In the meantime, you can feel that we are working much more efficiently and faster than before. That's why I wouldn't prefer any other way of working to agile.
As an SAP consultant, you are in great demand on the market and can virtually choose your employer. Why did you choose us?
There are several reasons:
First of all, I think it's great to work in-house and still have a lot of customer contact. As an SAP consultant in one of the large consulting firms, you naturally have even more contact with customers and thus gain a lot of exciting insights. However, in this job you rarely see the results, the impact you have created through your contribution, and it involves frequent travel. Our team works on our own products or platforms, such as Aqount, which is then sold by our colleagues in sales. So we can track the performance of the products very well and are close to the action.
And although I often have to deal with customers and their requirements, this does not involve any travel for me. Because of the offer of remote working, I can even do 80% of my working time in my home office after the pandemic and I will definitely use this. I live about an hour away from the Münster site and am very happy about the time savings resulting from the home office arrangement. I also very much welcome the recording of working hours via our web client, as this also tracks overtime, which can then be reduced without any problems if necessary. I definitely prefer this system to the trust-based working time.
I also think it's great that we are a company. And a corporation always brings with it the association that about 18 approvals have to be obtained before an innovation comes about or a good idea is implemented. I was pleasantly surprised: a lot of decisions are made in our team and the managers can be contacted directly if necessary. The decision-making processes are therefore very short and encourage people to bring in their own ideas.