Nordic Testing Days: A Recap of Our Team's Experience
Discover the transformative experience of our team at Nordic Testing Days, a premier event for software testing professionals. Dive into their highlights, including UI innovations, security testing, and networking with industry experts. Explore the power of knowledge exchange and networking in software testing.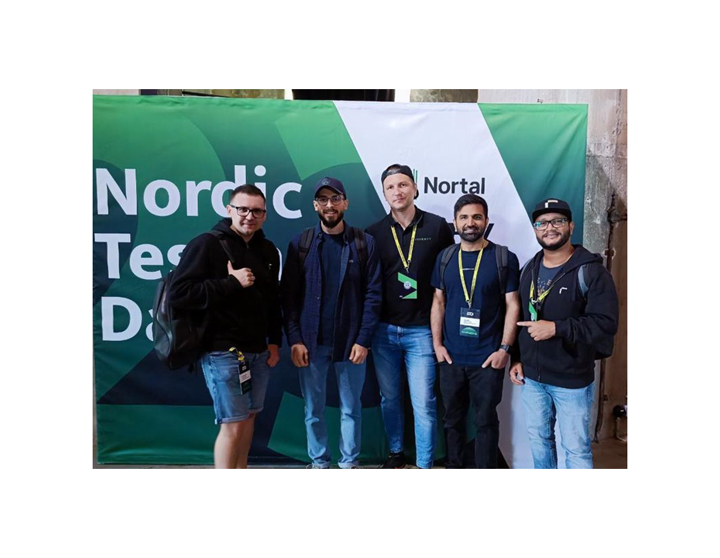 Recently, our dedicated team of software development engineers in test had the opportunity to participate in the renowned international event, Nordic Testing Days held in Tallinn. This international gathering attracts software testers, programmers, UX specialists, project managers, and designers, offering a platform for knowledge sharing and professional growth. In this blog article, we will share our team's experiences and insights gained from this enriching event.
Team Participation:
Our small team consisting of Eden, Yuri, Stanislav, Gull, and Jevgeni eagerly attended Nordic Testing Days this year. They were drawn to the conference due to its diverse range of topics, workshops, and the chance to connect with like-minded professionals in the field.
Highlights and Learnings:
Jevgeni, attending for the second time, found the UI-related topics particularly intriguing. Presentations such as "What's New and Good in Selenium" and "Selenium Grid, Docker, Selenoid and Jenkins - How To Build UI Web Tests Infrastructure from Scratch" caught his attention. Furthermore, Jevgeni valued the opportunity to reconnect with former colleagues and forge connections with new individuals from diverse backgrounds.
Eden, also attending for the second time, highlighted the importance of this dedicated event for professionals in the field. Their standout experience came from delving into physical security testing, an area previously unknown to them. Witnessing the evolution of technology's impact on both positive and negative aspects of quality assurance left a lasting impression. Additionally, Eden cherished the chance to engage with professionals from various European regions, gaining valuable perspectives and insights.
For Yuri, attending the event for the fifth time, the allure lies in expanding knowledge and networking with industry peers. While this year's event had fewer standout learnings, Yuri discovered that his automation ideas were shared by others, reaffirming his expertise. Basic security testing information and engaging discussions with fellow professionals about fascinating topics also contributed to a worthwhile experience.
Gull's motivation for attending Nordic Testing Days stemmed from the event's intriguing topics and their potential applicability to automation and load testing within the company. Having participated for the third time, Gull found value in sessions like "Dirty Tests and How to Clean Them" and "The 8 'Commendments' for Maintainable Test Automation." Moreover, the opportunity to network with professionals from different companies and learn about their experiences and preferred tools added further depth to Gull's experience.
For our team, Nordic Testing Days gave a valuable platform for knowledge exchange, professional growth, and networking within the software testing community. From discovering new insights in UI testing and physical security to engaging in stimulating discussions, our team returned with enhanced skills and a broader perspective. We are grateful for the opportunity to participate in such an enriching event and look forward to applying our learnings to drive quality and innovation in our work.
Find more content you are interested in
If you like to explore more about workplaces at Riverty, we invite you to use our Keyword Search to navigate through our career opportunities.