Internationality doesn't have to stop with your career
US, Germany, Norway – and more is yet to come. Discover how a traineeship at Riverty has opened doors for Valentino that transcend borders and allowed him to build strong connections with international colleagues.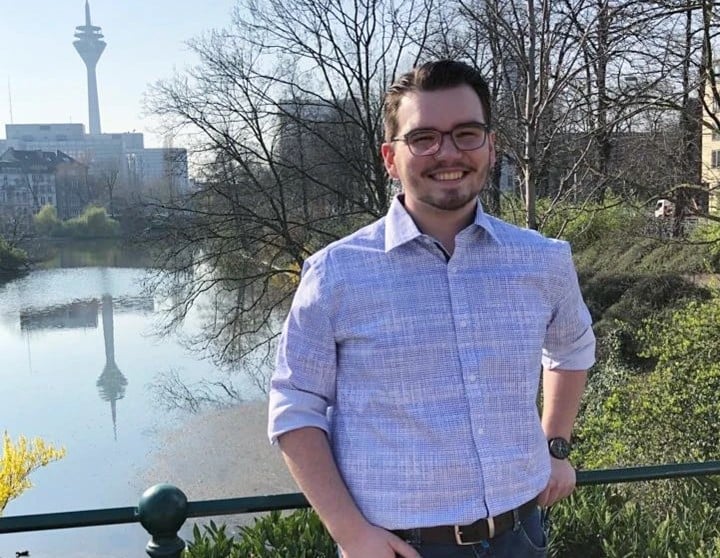 Thriving Across Borders
Born and raised in the US as the son of German immigrants, I always felt like my home was not only in the US but also in Germany, leading me to pursue and completed my master's degree in Bonn. Internationality has always been a key stone of my life, and this followed me in my professional career. During my job search, I placed a strong emphasis on the international orientation of the company. It is of great importance to me that I can constantly evolve and have opportunities for growth within my role. An international focus is undoubtedly a prerequisite for this in today's world. This is the primary reason why I chose to apply for the traineeship at Riverty.
My Experiences as an International Finance Trainee
Being an International Finance Trainee for seven months, by now I can say with certainty – I have never regretted my decision! I thoroughly enjoy the variety provided by the three-month rotations. Since my start at the company in November, I have had the opportunity to be part of Business Intelligence, Business Controlling, and right now the Financial Planning and Analysis team. And guess what – as my colleagues from my current department are mostly located in Norway, I will stay here until end of June! Through my traineeship, I have already further enhanced my Excel skills and have been trained in the use of different tools like PowerBI and ThinkCell.
In terms of personal development, the traineeship has strengthened my ability to rely on teams. In my academic career, I learned to rely on my notes and textbooks in order to complete my coursework. At Riverty, I have begun to rely more on my team for help and guidance. I am no longer a lone student but a part of a cooperating team.
Seamless Support by Riverty
I feel very supported by the company in many ways. Whether it is the home office option, local company events hosted by my branch or the encouragement to travel to different branches in order to get to know my coworkers stationed abroad – Riverty offered me all of this. When it comes to organizational matters, I have received tremendous assistance from Carolin and her team. As a trainee, they have provided me with an additional travel health insurance and ensured social security coverage during my time abroad. Moreover, they take care of all costs of living, including paying for an apartment, trains and flights, and meals. Thanks to their efforts, going abroad is convenient and hassle-free for us trainees.
My goal for this traineeship is…
….to continue building my understanding of international financial topics while improving my relationships with my international colleagues and their departments. When my traineeship is complete, I want to have both strong personal connections with and thorough understanding of the various teams in the financial department of Riverty. I look forward to accomplishing this over the next year of my traineeship.
Through my traineeship at Riverty, I have experienced the benefits of embracing a global perspective. From diverse rotations across different departments to building strong relationships with international colleagues, this opportunity is enabling me to broaden my horizon and gain new perspectives!
Find more content you are interested in
If you like to explore more about workplaces at Riverty, we invite you to use our Keyword Search to navigate through our career opportunities.