Diversity Deep-Dive – The podcast that educates.
Discover our exciting journey through the Diversity Challenge! Find out why we chose to advocate for a diverse and inclusive work environment. From developing a unique podcast to selecting relevant topics, we share our experiences and aim to raise awareness for Diversity, Equity & Inclusion.

Please note: The picture provides a preview of our internal podcast series here at Riverty.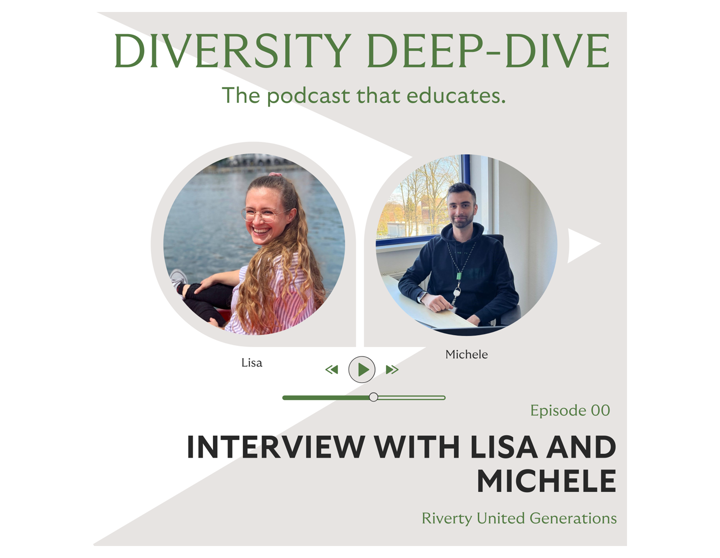 What do an international cookbook, a quiz night, and a baking event have in common? These were all ideas that our Young Talents came up with to participate in this year's Diversity Challenge by the Diversity Charter. Today, Lisa Müller, a third-year dual student, and Michele Picone, a third-year apprentice, will reveal how their project team, along with five other apprentices and dual students at Riverty, worked on a project for the Diversity Challenge.
Why did you decide to participate in the Diversity Challenge?
Lisa: The Diversity Challenge offers young employees the opportunity to advocate for a prejudice-free and appreciative work environment and actively shape diversity in the workplace. It sounded really interesting to us, and since we had already been exploring the topic of diversity as a project group, the challenge came at just the right time!
For the challenge, you had to develop and implement a creative action idea. How did you approach it?
Michele: First of all, we brainstormed together on how we could make diversity more visible at Riverty. We thought about organizing a quiz night or creating an international cookbook, for example. But after many brainstorming sessions, we came up with the idea of producing a podcast that would shed light on the various facets of diversity.
Which topics did you select for the podcast episodes?
Lisa: As a group, we discussed which topics were relevant to us at Riverty and which perspectives we wanted to include. Since we deliberately chose to address various dimensions of diversity in the podcast, we covered topics such as connecting generations in the workplace, the experiences of employees with disabilities at Riverty, and how to navigate coming out in the workplace.
Michele: Exactly. We also spent a lot of time considering which employees we wanted to interview to cover a wide range of perspectives. In the end, we involved colleagues from different areas of the company to share their experiences and perspectives.
How was it for you to produce a podcast for the first time?
Lisa: It was a lot of fun to be creative and work independently on a project. Our colleagues supported us tremendously and were always there to listen when we had questions or needed feedback on our ideas.
What do you hope to achieve by participating in the Diversity Challenge and internally releasing the podcast?
Michele: We hope to raise awareness for Diversity, Equity & Inclusion at Riverty and inspire our colleagues to engage more deeply with this topic. And, of course, we also hope to be successful in the Diversity Challenge and have our work recognized. We are very proud of the result and believe that we have created something special.
Learn more about our DEI initiatives
Find more content you are interested in
If you like to explore more about workplaces at Riverty, we invite you to use our Keyword Search to navigate through our career opportunities.