We are the champions!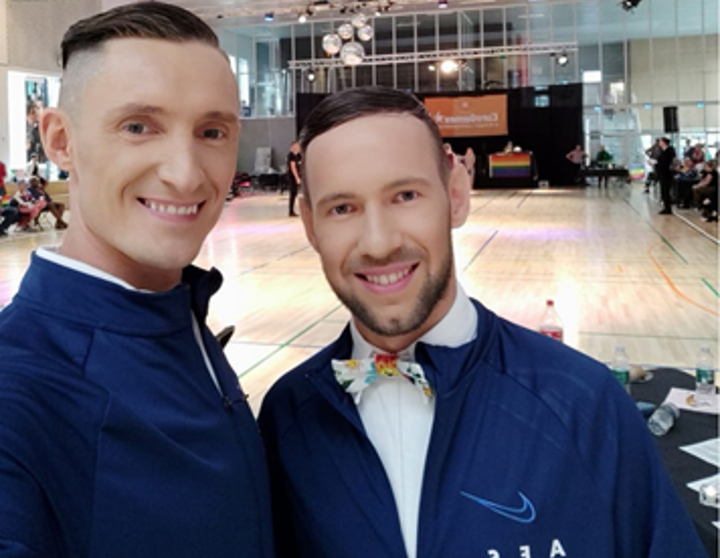 LGTBQ-sports event "EuroGames"
Under the motto #YouAreIncluded, this year's LGTBQ sports event "EuroGames" took place in Copenhagen in mid-August. The EuroGames have been held annually for almost 20 years, with the aim of promoting the integration of all people in sports and explicitly counteracting discrimination.
Riverty (former Arvato Financial Solutions) employee Rafał Chmiela, Team Lead - Collections Service Dialog Center at the Katowice office and one of two coordinators of the Riverty United be.queer network, and his dance partner Grzegorz D. participated in this year's EuroGames.
What are the Eurogames and what is special about them?
Rafał:
The EuroGames, which took place from 18-20 August in Copenhagen (Denmark) and Malmö (Sweden), is an LGBTIQ+ inclusive sporting event with 22 different sporting disciplines. These include badminton, field hockey, figure skating, soccer, swimming and triathlon. In another sport, ballroom dancing, Grzegorz and I participated.
The principle of the EuroGames is that everyone can participate, regardless of gender, age, sexual identity or physical ability.
Similar to traditional dance competitions, couples compete against each other in various disciplines in ballroom dancing: Standard, Latin, Ten Dances, Show Dancing, and Hand Guidance. However, the peculiarity was that same-sex as well as non-binary couples also participated, like us. We are glad that there is such a platform that allows people like us to pursue our passion.
How long have you been dancing together on stage?
Rafał:
We have been competing together at international competitions since 2015 and have been very successful since then. In 2017, we won the European Equality Dance Standard Championships in Berlin. In 2018 we also competed at the World Championships in Paris and won the Vice World Championship in 10 dances.
We are very happy that many months of consistent training paid off. Thus, we could convince the jury with our dancing skills and won two of the prestigious European Championships 2021 in Men's Equality Dance - one in the Standard Dance and another in the Ten Dances category.
We are now double European Champions!
Both of us have done a lot for this title and did not let the special pandemic conditions bring us down. We are all the more happy that our performance was recognized. The support of Riverty United was also a great help.
What impact will the victory have on your work with Riverty United?
Rafał:
As Riverty United be.queer coordinator, I would like to send another clear message against discrimination with my participation in the games and encourage more integration and inclusion in the world of sports as well as in the world of work. For quite some time I have been working on a concept to enable dancing together on site. To this end, I wanted to teach Riverty employees at the Katowice office a few basic dance steps in a dance course. I also want to follow the principle: Everyone can participate.
For a long time, the dance class could not take place due to the pandemic restrictions. However now, conditions finally allow it, so that every Monday at 7 p.m. we can swing a leg together. The interest is high - so I can now share my passion for dance with over 25 colleagues.
Learn More!
You want to read more about the benefits we offer and the way we work at Riverty? Have a look at our people blog and see what our employees have to say!