Digital onboarding program honoured with e-learning award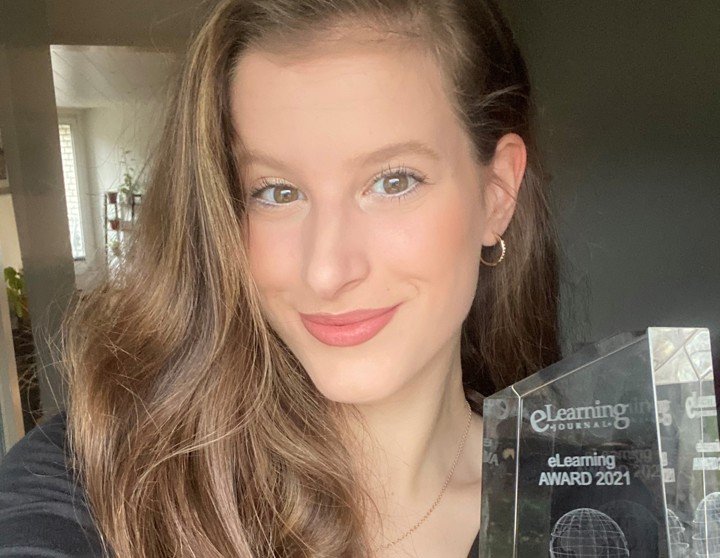 Digital Onboarding
As of mid-2020, the world of work has largely shifted toward a digital environment due to the current COVID-19 pandemic - and the same can be said for Riverty (former Arvato Financial Solutions). For new employees, this presents new kinds of challenges regarding their entry into a new company. To make it easier for them to settle in and become integrated a new onboarding program was developed. The international project takes place in a digital setting. Melis Devletli, the responsible project manager, reveals fascinating insights into what characterizes this program and why it was recognized with the E-Learning Award 2021.
Hi Melis! Thank you for joining us. Could you briefly introduce yourself to our readers?
Melis: Of course! I'm Melis Devletli and I work as a Junior HR Consultant in the Learning & Development department. I joined Riverty in April of 2020. Due to the pandemic, I started working from home. Therefore, I know the uncertainties and challenges that can be related to this kind of start.
BOARDING program
What exactly does the onboarding program consist of?
Melis: The onboarding program is called " BOARDING – International Riverty Welcome Event". Its purpose is to digitally integrate employees who primarily work cross functionally Riverty. The format of the program pursues a blended approach. Each of the five modules is filled with videos of the responsible management and live Question-&-Answer sessions. As a result, participants not only familiarize themselves with our company, but also receive the valuable opportunity to ask their questions directly to our top management. This is one of the special features of our onboarding program. In addition to the Get2Know sessions, the management conveys helpful career tips and provides an in-depth insight into the respective business units.
Furthermore, the program is designed to help new employees establish an international network. Through interactive breakout sessions, participants get the opportunity to get to know other colleagues and exchange ideas. Frequent interactive sessions make it easier for them to develop a team feeling in the virtual format.
What was the triggering moment behind this project?
Melis: The pandemic situation has made us face unique challenges, forcing us to stop face-to-face events last year. This was our chance to move to a digital format. Onboarding is very essential, especially for new talents that we acquire. Needless to say, we also want to welcome and greet them in the virtual setting. Thanks to the spontaneous willingness and high level of support from our top management, we were able to quickly adapt to the given situation and implement the idea.
Constant development
Have you already received feedback from employees who were able to participate in this program? How was their experience?
Melis: We receive ongoing feedback in all rounds. Following the fifth module, we also engage in an official feedback loop. Hereby, we try to make it as interactive as possible. In doing so, we not only gain insightful feedback, but also receive suggestions on how to improve the format. This is important to us because our program is an ongoing learning process.
The feedback is consistently positive, and we can summarize that the onboardees perceive program as a significant added value. I personally believe that the participants are just happy to have the opportunity to get to know the business units beyond their own area in a virtual format. Also, the possibility of building up an international network is well received by the participants.
Is the program finalized or consistently changing?
Melis: We are constantly working to improve our program. In doing so, we always try to incorporate and address participants' suggestions for improvement. In addition, we are in a digital environment, which is why the program is always evolving and there is certainly more to come in the future.
Special features of the program
Melis, why is this program so unique?
Melis: The BOARDING program allows our new colleagues to get to know the world of Riverty in an interactive way. The videos included in the program were recorded by our top management themselves. In addition to the live Q&A sessions, this also creates the special authenticity and closeness that characterize this program. We are also very happy about the fact, that we can create a group feeling and give the participants an international networking opportunity. The interplay of these aspects has delightedly brought us this year's E-Learning Award :).
What inspires you about the program?
Melis: In addition to the special features I have already mentioned, I am more than excited to be taking on the challenge of creating the whole experience interactive, virtual, and in an international context. I think it's great to give our new colleagues an exciting start at Riverty. It makes me happy, to see smiling faces of the participants at the end of the program :).
Learn More!
You have become curious about the benefits we offer and the way we work at Riverty? Have a look at our business blog!