Being Me at Riverty
Being yourself – whether at work or at home – should never be a question. At Riverty we have initiated a new event, where colleagues come together to celebrate what makes them different.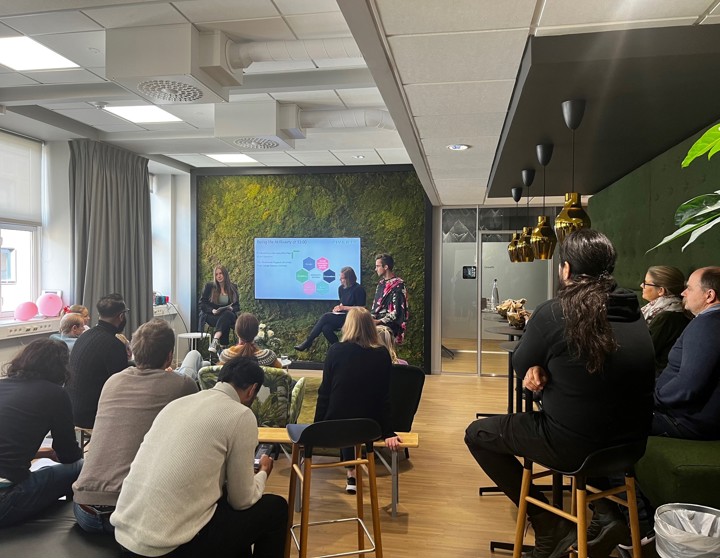 Being yourself – whether at work or at home – should never be a question. At Riverty we have initiated a new event, where colleagues come together to celebrate what makes them different.
Have you ever felt like you weren't your true self in the context of work? Because the circumstances didn't allow it or you didn't feel comfortable enough and were afraid of what others may think? If the answer was yes, you are definitely not alone.
Being yourself – whether at work, at home or any other social setting – should never be a question. At Riverty, we celebrate diversity and inclusion, as we are deeply convinced that bringing different backgrounds and personalities together and making people able to live their true self also in the workplace is key to a successful and thriving organization.
When addressing the topic of being oneself at work, we start with one question: What does "Being Me at Riverty" actually mean? To answer this question, Lotta Lang, Dual Student at Riverty initiated a Diversity, Equity and Inclusion event in Oslo under exactly that title. She invited her colleagues, Tina Nygaard and Ryan Dawson, to the stage to discuss their experiences and fully grasp the idea of being yourself in the workplace. Together with more than 25 colleagues from various departments, they discussed openly about dealing with stereotypes, judgements and discrimination, shared their own experiences and joined forces in overcoming unconscious bias in the workplace.
As a woman in the industry, Tina spoke about her experiences and revealed why it has been hard in the past to truly be herself at work. "Before I began working at Riverty, I experienced being singled out, both because of my age and my gender. Receiving inappropriate advice and comments or being told that I wouldn't be capable in performing a task I was given was part of it." These situations have resulted in her withdrawing herself more, acting more reserved than usual - ultimately to avoid insensitive comments and protect herself.
Whilst we know that differences between women and men – in pay as well as in interactions with others – are still apparent in our society, we at Riverty are actively working on breaking down barriers and overcoming unconscious bias. Next to offering specific leadership trainings, our corporate women's network together with other diversity initiatives are working on tackling these topics – making our workplace at Riverty more inclusive by the day. "We live in a diverse society, which is also reflected in our working environment. We don't only tolerate our differences but appreciate our own individual qualities and expertise – independent of gender, sexuality, religion, nationality and so on. I can just be myself. I can simply be Tina", she adds.
On the other hand, Ryan spoke about being an openly LGBTQ+ identifying individual in our company – a coming out that takes courage and self-confidence. It requires a safe space to share such vulnerable information about oneself.
"It is so important that everyone sees themselves as the individual they are. We all have certain traits that form our personality. Even if that means that we are different from the rest, isn't that what makes us special?", Ryan says. During the event he spoke about the specific challenges that queer people face in business. From having to deal with intolerance and judgmental behavior - he also spoke about how important it is to see everyone as the individuals they are instead of putting them in boxes based on their sexual orientation. "There are specific hurdles and challenges that queer people face in business that others do not, and this forum gave space for me to share my own personal experiences", Ryan says.
At Riverty, we work to ensure that queer people don't have to face these challenges in the first place. With employee networks like be.queer, we have been actively working towards more visibility and appreciation of the queer community for over five years now. Whether participating in Pride Parades, developing trans* guidelines or offering a safe space in which LGBTIQ+ colleagues and allies can exchange ideas – inclusiveness is what we aim to achieve.
The open dialog was a valuable experience for all participants. One thing that everyone agreed on: In the end it's about celebrating that we are all different and taking on new perspectives to foster an inclusive space, where everyone feels safe enough to be themselves. As we are still asking ourselves the question of what we can do to ensure exactly that, we know, we are not there yet. By working with our initiatives, we will continue to create a workplace where everyone feels included. Because after all, everything we do starts with you.
Learn More!
You have become curious and want to read more about the benefits we offer and the way we work at Riverty? Have a look at our People Blog and see what our employees have to tell!