Work-Life-Balance with part-time apprenticeship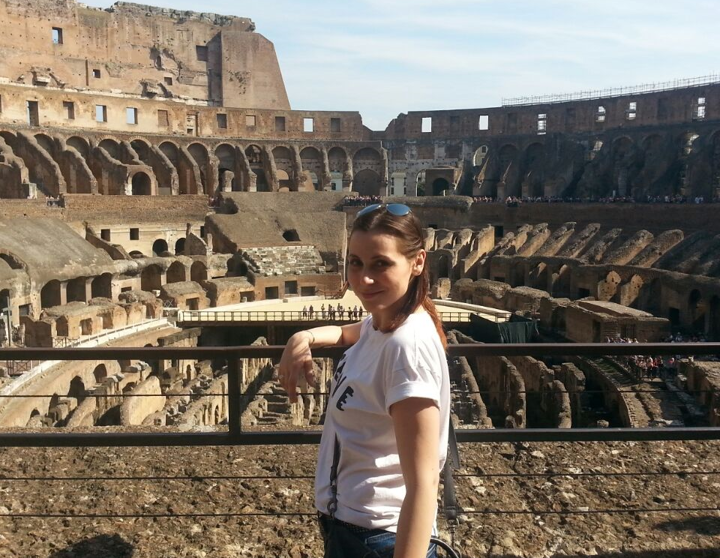 Family? Job? Free-Time?
For most people, one of the biggest challenges is combining their job and the time being able to spend with their family. Especially when children are still very young, they need a lot of attention and support from their parents. Whether an employee returns from parental leave temporarily as a part-time employee or continues to work from home – there are various ways of combining parenting and everyday working life. Riverty (former Arvato Financial Solutions) offers part-time work opportunities not only to experienced professionals, but also for newcomers. In an interview with Pelagia Papadopoulos, she describes how she manages to successfully master her part-time apprenticeship and at the same time be there for her son.
Hello Pelagia. Please introduce yourself briefly.
Pelagia: Hi, I am Pelagia Papadopoulos. This is a rather difficult name, so everyone just calls me "Bella". I am 32 years old and therefore probably the oldest among the current group of trainees. I am married and have a young son. Before working at Riverty, I studied sports in Greece and later mathematics in Bielefeld. Afterwards I changed my career focus and started an apprenticeship as an office management assistant. In just a few weeks I will be in my second year of my apprenticeship.
Did you know that part-time training was possible before you applied to Riverty?
Pelagia: I was aware that Riverty offers part-time apprenticeships because I had done a lot of research before and had also addressed this topic directly within my job interview. It was also very important to me to address this topic right at the beginning. It would have been such a shame if I had started with 8 hours and noticed in the middle of it, that I couldn't manage it in terms of time. I knew that I absolutely wanted to do this apprenticeship, but only at maximum 6 hours per day, because I want to take care of my little son. In the morning, he goes to kindergarten, but in the afternoon, I want to be there for him. I have a great educational manager, Kerstin Hörning, who supports and understands me in every aspect. I am very grateful for that.
Would a full-time apprenticeship have ever been an option for you?
Pelagia: I could have worked full-time, but that would have been much more difficult for me. I personally believe that when I do something, I want to do it properly. I lose 2 hours' worth of time and earning money, but I can fully concentrate on my son. For me it is important to complete my apprenticeship properly. When my son is older, I will be able to work full time. But to find the balance between family and education, I must set clear boundaries. In my opinion, it doesn't work any other way.
Part-time apprenticeship process
How does your part-time apprenticeship proceed?
Pelagia: In itself, my apprenticeship is no different from that of apprentices who complete their training full-time. The only difference is that I work two hours less every day. In general, I can arrange my working hours as need to. In my case, however, the working hours are regulated anyway due to my son's kindergarten hours. I start in the morning between 6 and 7 a.m. and then work for 6 hours. In the office I usually take a break. But at home I work continuously, as afterwards I can fully concentrate on the household and my son. All my colleagues know that I am available from 7 to 1 p.m. So, they make sure that my tasks are distributed during this time. Of course, there are additional appointments and training courses out of my 6 hours workday. But these can always be easily arranged or postponed so that it suits me.
I also have a great team. Everyone fully understands my situation. I'm not the only mother, which means that others can put themselves in my position and that they themselves are only available at certain times. A good team is also very important to me. I am very grateful for my colleagues' understanding.
On school days there is no difference between full-time and part-time trainees. We all go to school at the same time. After school, unlike apprenticeships in other companies, we don't have to go back to the office, instead we are able to go home. This is very cool and gives me even more time for my family.
Do you feel that your part-time apprenticeship has advantages or disadvantages compared to full-time apprenticeships?
Pelagia: A small advantage is – of course – that I finish work earlier than the other trainees ;). Joking aside – there is not much of a difference between the two working time models. The learning material remains the same for everyone. Quite the contrary, I have two hours less per day than the other trainees. In those two hours when I'm already at home and taking care of my son, the others continue to learn. Nevertheless, I don't have the feeling that I'm lagging behind. I learn the same topics and we continue as usual. Of course, I can't achieve everything in 6 hours that I could do in 8 hours. But it works. I have set myself the goal and I want to complete my apprenticeship correctly and successfully.
Working environment
How do you perceive your apprenticeship at Riverty?
Pelagia: I am the oldest in my academic year. Most of the students are between 18 and 22 years old. At the beginning, I was a bit worried about what it would be like since the others are so much younger. But everyone is super nice and there is a very respectful atmosphere. The working environment is very pleasant. I had never worked in an office before and was therefore very excited about working with the team. The teamwork with the colleagues is really great. Through such an exchange I learn a lot and can develop both professionally and interpersonally.
If there is a will, almost any challenge can be overcome. Pelagia's story demonstrates exactly that case. Are you also interested in a part-time apprenticeship? Here you can find out everything about our apprenticeship program.
Learn More!
You have become curious and want to read more about us? Have a look at our business blog!