Despite inflation: Living the best financial life
Inflation is high, everything gets more expensive. This puts more financial stress on people. Riverty supports people with financial difficulties through a fair debt collection process. This includes activating communication, easy-to-understand digital payment tools, and financial education. Keeping people financially healthy and in a self-determined customer lifecycle with you.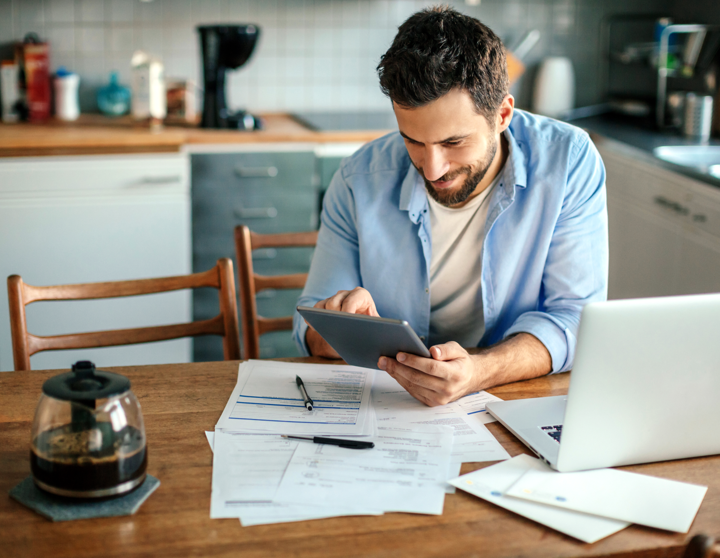 The inflation rate in the European Union (EU-27) rose to an average of 9.9% year-on-year in January 2023. For many people, this means an additional financial burden. The risk of financial distress has intensified. This makes our human-centric mission even more important.
Taking responsibility in financially difficult times
As Riverty, we want to help people live their best financial life. We are there especially when things get financially difficult and take responsibility for each individual. We support individuals in bringing their finances back into balance.
How do we do that?
First of all, we count on an individual and fair communication during a dunning or debt collection process. We do not act according to the principle "one size fits all". Instead, following a persona-based approach we provide the most personalized communication possible to activate people to engage with their financial situation and to get in touch with us. This includes messaging, timing, and the choice of channel as well as tonality. We show empathy and offer help – such as payment breaks and instalments. For example, we provide an instalment calculator where offer options are controlled user-specifically on the basis of our algorithms.
Offering easy-to-understand self-services
Secondly, we offer digital self-services which are easy-to-understand and use, with a clean interface. This way, our consumer portal provides people with a transparent view on open invoices, payment due dates and various payment options.
A third point is also very important: Responding to people clearly and quickly when they ask for financial or other assistance. For this purpose, we use the support of automated tools and intelligent algorithms.
Riverty's financial support goes beyond just dealing with a particular debt in arrears. It is about helping people overcome an unsustainable personal financial situation. And learning a better way to handle finances. That's why we invest in financial education formats and tools.
Calculating the freely disposable income
In our app "Riverty Back in Flow" for example, people can check their income and expenditure. We specifically calculate the freely disposable income. We also calculate whether and how much money is currently available each month that can be used to pay off debts. If this is the case, it can be converted directly in the app into an instalment payment. It can be tracked monthly and, if necessary, dynamically adjusted to the respective income situation. Even more, one can monitor the expenditure in different spending categories, compare oneself with others, receive concrete savings tips per spending category and can set individual savings goals. Thus, "Riverty Back in Flow" provides continuous support in getting a grip on the financial situation.
Additionally, the Riverty Financial Academy provides everything one needs to know about finances, savings tips and dealing with difficult financial situations. Both in our blog, Financial Guide and in simple, understandable content on all common social media channels (e.g. Instagram, TikTok, Facebook).
Taking preventative action
Even in times of high inflation, we think of customer relationships holistically, not just from the first payment disruption. Our approach is rather to take preventative action. In this way, we help people to remain customers. We want them to find their way back into the customer lifecycle with you. Not just in the short term until the following month. But permanently within the framework of their respective financial possibilities.
Stay up to date with further topic insights:
How Riverty's high level debt collection enables transparency, education and financial freedom